United States Shipping
What are my shipping options?
Two Shipping Options are available
Standard Ground Delivery - We will process your order and deliver your package within 6 business days.
Next Day Delivery - We will process your order and deliver your package in 2 business days.
Order processing occurs on business days only, which are Monday through Friday. Orders taken on Saturdays, Sundays or Holidays are processed the next business day.
We do not ship to any international locations at this time.

How much does shipping cost?
Shipping rates are as follows:
Order Total
Standard Ground Delivery
Next Day Delivery
up to $15.00
8.95
30.95
$15.01 - $25.00
9.95
31.95
$25.01 - $35.00
10.95
32.95
$35.01 - $45.00
11.95
33.95
$45.01 - $60.00
12.95
34.95
$60.01 - $75.00
13.95
35.95
$75.01 - $85.00
14.95
36.95
$85.01 - $95.00
15.95
37.95
$95.01 - $100.00
14.95
32.95
$100.01 and up
Free
Please call
618-656-8899

When will I receive my order?
From order placement to your front door - ground delivery ranges from 3 to 6 business days depending on your location. Ground delivery orders ship by USPS Priority Mail from our Illinois warehouse within two business days.
All orders are shipped via this method unless you instruct us otherwise.
The number of delivery days is based on the number of business days following the day of shipment (does not include Saturday, Sunday or holidays). This approximation may vary, and weather-related delays are not subject to freight refunds or adjustments.
We do not provide Saturday or Sunday delivery.
See the time in transit map below to approximate your delivery date.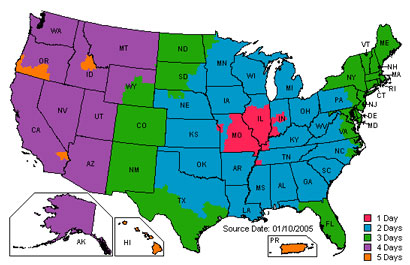 How can I track my order?
If you haven't received your tracking number yet, here's how our notification process works. When you place an order with To-Do's, we will send you two e-mails:
Order Confirmation email
Shipping confirmation email
The first email will confirm that we received your order. Within two business days, your order will be ready to leave our warehouse. As soon as your order does leave our warehouse, we'll send you a second email to let you know that your order is on its way.
To be certain that you receive this information, please make sure you enter a valid email address when you place your order. Also be sure to check your email in case we have e-mailed you with questions about your order.